To the NH Academy of Family Physicians and the NH Chapter of the American Academy of Pediatrics,
During these unprecedented times of COIVID-19 Emergency, we would like to remind you that the NH Title V program at the Bureau of Family Centered Services, Special Medical Services, remains available to help support you and your practice. We recognize that during the current pandemic, your office may be operating with fewer staff than usual and our Bureau may be of assistance to you. Our program works with NH residents, 0-21 years old having chronic medical issues and special health care needs. So as you reach out to care for your patients and families, please know that our staff of health care coordinators are ready to work with you, answer questions and assist with the difficulties of finding resources for children with special health care needs. Our coordinator staff includes nurses, social workers and educators who are accustomed to navigating health care systems including working with MCO's, insurance companies and obtaining prior authorizations.
So during these unsettling days, and in the future, please do not hesitate to call our Bureau at 603-271-4488.
We wish you all safety, moments of calmness, good health and reassurance that you and your efforts to care for so many are greatly appreciated.
NH DHHS COVID-19 Update - May 27, 2020
Concord, NH - The New Hampshire Department of Health and Human Services (DHHS) has issued the following update on the new coronavirus, COVID-19.
On Wednesday, May 27, 2020, DHHS announced 56 new positive test results for COVID-19. There have now been 4,286 cases of COVID-19 diagnosed in New Hampshire. Several cases are still under investigation. Additional information from ongoing investigations will be incorporated into future COVID-19 updates. Of those with complete information, there are four individuals under the age of 18 and the rest are adults with 55% being female and 45% being male. The new cases reside in Hillsborough County other than Manchester and Nashua (15), Rockingham (12), Merrimack (3), Grafton (3), Strafford (2), and Belknap (1) counties, and in the cities of Manchester (14) and Nashua (2). The county of residence is being determined for four new cases.
Five new hospitalized cases were identified for a total of 426 (10%) of 4,286 cases. Six of the new cases have no identified risk factors. Community-based transmission continues to occur in the State and has been identified in all counties. Most of the remaining cases have either had travel to domestic or international locations or have had close contact with a person with a confirmed COVID-19 diagnosis.
DHHS has also announced nine additional deaths related to COVID-19. We offer our sympathies to the family and friends.
4 female residents of Hillsborough County, 60 years of age and older
3 male residents of Hillsborough County, 60 years of age and older
1 male resident of Rockingham County, under 60 years of age
1 male resident of Rockingham County, 60 years of age and older
Current Situation in New Hampshire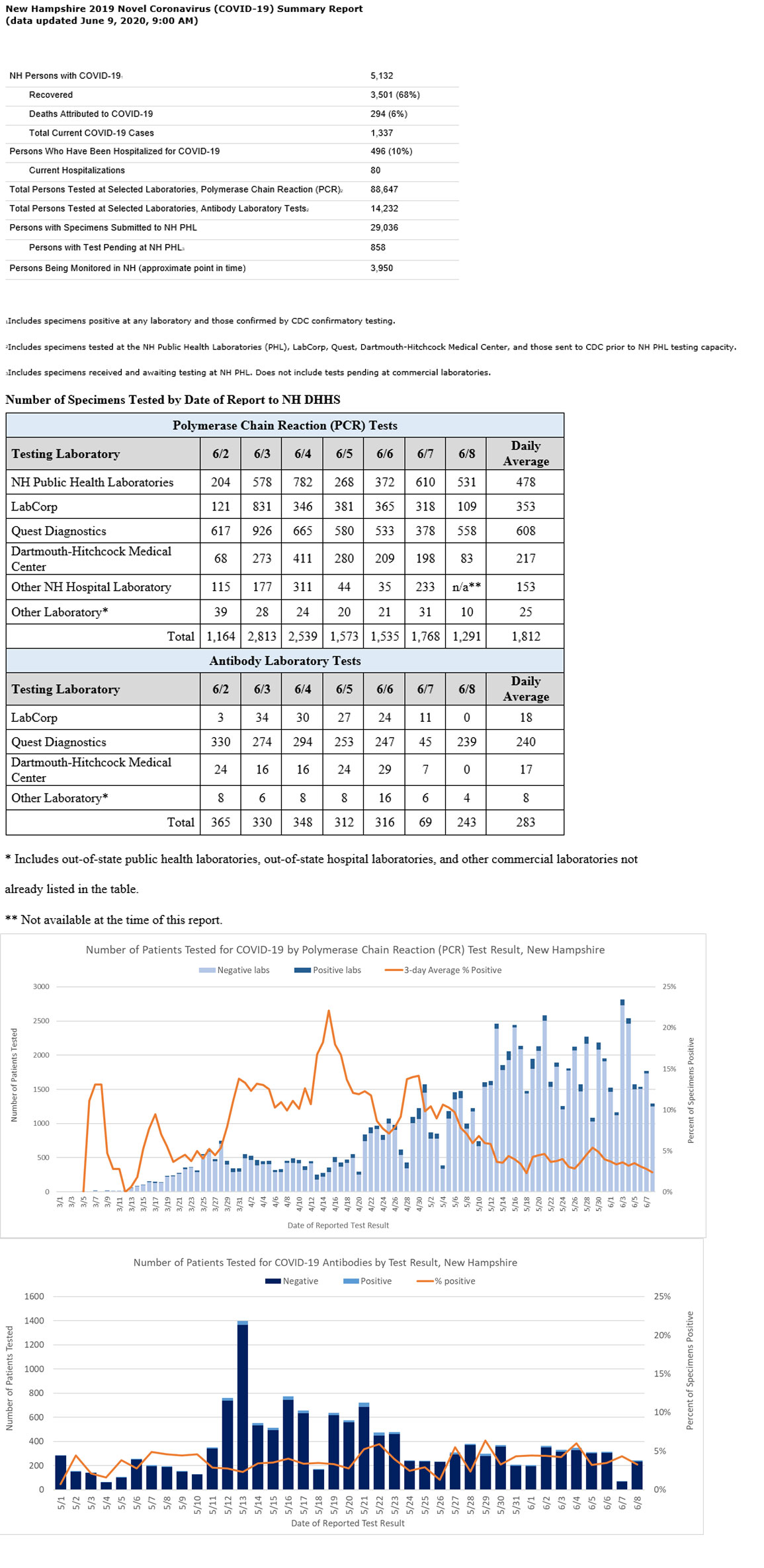 NH DHHS Daily Update on COVID-19 Archive
For more information, please visit the DHHS COVID-19 webpage at
https://www.nh.gov/covid19
.
COVID-19 Resources
Coronavirus Resources
Family Well-Being Guide Cover Letter
Family Well-Being Guide COVID-19
Telehealth Guidance
Kids Tech for Mental Health
Coping Skills and Mindfulness
- Joshua Bradley, Psy.D. , Director of Behavioral Health, Tri-Area Community Health, Laurel Folks, VA
I Have a Question about Coronavirus Book
Educational Resources
COVID-19 and the Pediatric Population
Child Abuse Prevention Toolkit
DCYF Tracking
NH Medicaid Telehealth Annual & Well Child Visits Clarification
PPE Request Form
Well Child Visit